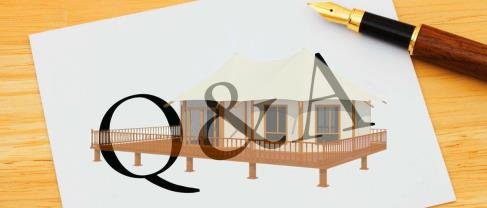 FAQs about Camping Tents
Please find answers to several Frequently Asked Questions about The Luxury Tents as below.
If you still have any question, feel free to reach out to us. We will do our best to give you a satisfactory answer. Thank you.
Do you do site inspections?
Where possible we like to visit our customers' property. It is not always easy to do so however. If the customer requires it however, we will get there – as long as all costs are covered. Site inspections are more common when the project is turnkey or for a large quantity of tents.
Do the tents have insulation?
We have an insulated double-wall fabric that can be used for the tent roof. Also we use Insulation/glass panel for tent wall.
What frames do you offer?
We offer Q235 Steel frames, Stainless Steel, and Aluminum alloy. We recommend the stainless steel options for any coastal climates where high erosion could be expected. Also use stainless steel if you are in climates with high humidity or a rain forest.
Are the tents UV protected?
Yes, our tents with PVDF fabric are UV protected and proven to handle sun in extreme conditions. Ideal for setting up resorts in Namibia, Kalahari, Sahara, Sonoran and other desert climates.
Do your tents offer groundfloor?
It is an option, but we recommend alternative flooring such as wood, tiles etc. A PVC groundfloor tends to cheapen the tents and has a lot of wear and tear.
Are the tents considered "Temporary Structures"?
Yes, in most counties, the tents are classified as temporary structures, not requiring building permits. It is important however consult with your local authority to enquire about permits required for your specific project.
2.Who handles tents installation?
Each tent has an installation manual. Some customers set-up their own tents with guidance online from our teams as needed.
3.How much does shipping cost?
You will be provided with a freight quote estimate to a destination port once we have determined what tent design(s) and quantity(s) are required. Please keep in mind that brokerage, import duties, taxes, and other costs related to shipping/import at the destination country port, are not included in the freight quote estimate that we send you. Also, some countries require specific documents for clearing purposes that are not considered "standard." So it's always good to confirm with your local shipping agent or specialist exactly what documents they need prior to the shipment arrival. Shipping quotes are valid for only 30 days and we handle all freight logistics to destination ocean port or airport.